Uploading Your Website Files
There are three possible ways to use FTP: 

cPanel File Manager (recommended for a small number of files) 

1. Go to cPanel > Files section > File Manager > choose Document root and a site you need to upload files for from the drop-down list and hit Go: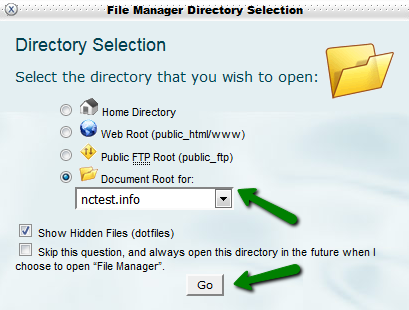 If you want to go straight to to public_html, check Web root. 
In order to view hidden system files such as .htaccess or others, leave the box Show Hidden Files checked. 

2. Once there, click the Upload button: 





You can also extract or compress archives which is very helpful and fast especially when uploading/downloading multiple files. 

While File Manager is instantly accessible via cPanel and does not need to be installed additionally, it is considered to be less convenient than an FTP client. 


FTP clients (recommended for a large number of files/if the website files are frequently updated) 

An FTP client lets you quickly handle files and get instant access to your web space. The only downside is that you will still need to use cPanel in case you want to extract files because FTP clients do not support this feature. 

There are plenty of FTP clients, and you can choose one that's up to you. If you ask us, we suggest that you use Filezilla - this is a popular FTP client with a friendly interface, easy to use and simple to configure. 

1. Download Filezilla client from the official site at https://filezilla-project.org/.
2. Once you've installed it and see Filezilla icon on your desktop, launch the program. 
3. It is possible to connect through different protocols.